TOKAI JOISPND Riveting System
TOKAI JOISPND SPR(SELF-PIERCING RIVET) System is an important system supporting the automobile industry in the future.
No prepared hole required,JOINING DISSIMILAR METALS,Joining after painting or plating,Joining from all directions,Destructive inspection is not required.
"TOKAI JOISPND" becomes a key to the manufacture of electric vehicles that heavily use light alloys and resins, and contributes greatly to the total cost.
Features
No prepared hole required
The rivet is press-fitted into the base material without pilot hole and fastened.
It is unnecessary to pilot holes into the base metal
※The rivet setter drives rivets into the material without holes.
After penetrating the material of the first piece, the rivet is curled outward by the pedestal which receives the rivet before penetrating the second piece and combines the two materials.
Fastening of different material
t is possible to fasten metal and resin or fastening different metals which can not be done by welding.
It can fasten plated steel plate or painted steel plate and no need for aftertreatment like welding.
Environment-friendly operation
No sparks or smoke, little noise and vibration.
There is not large amount of energy comsunption like welding.
Clean operation.There are two types of product supply which one that feeds rivets of roses with a feeder, and one that uses a rivets loaded on the belt.
In the feeder system facilities, there is no waste.
Stable quality of fastening
All processes are executed automatically and no skilled work is required.
There are few adjustment items. Since the fluctuation of conditions during operation is small, it operates stably.
Stable strength after high conclusion than the spot welding and clinching fastener can be obtained.
Working posture flexible
The orientation of the tool can be engaged in any posture of 360 °.
The belt system can continuously rivet 10,000 pieces. The feeder system is 3000 to 7000 pieces.
Various operation methods such as manual operation, jig assembling, robot operation etc. are also possible.
detailed drawing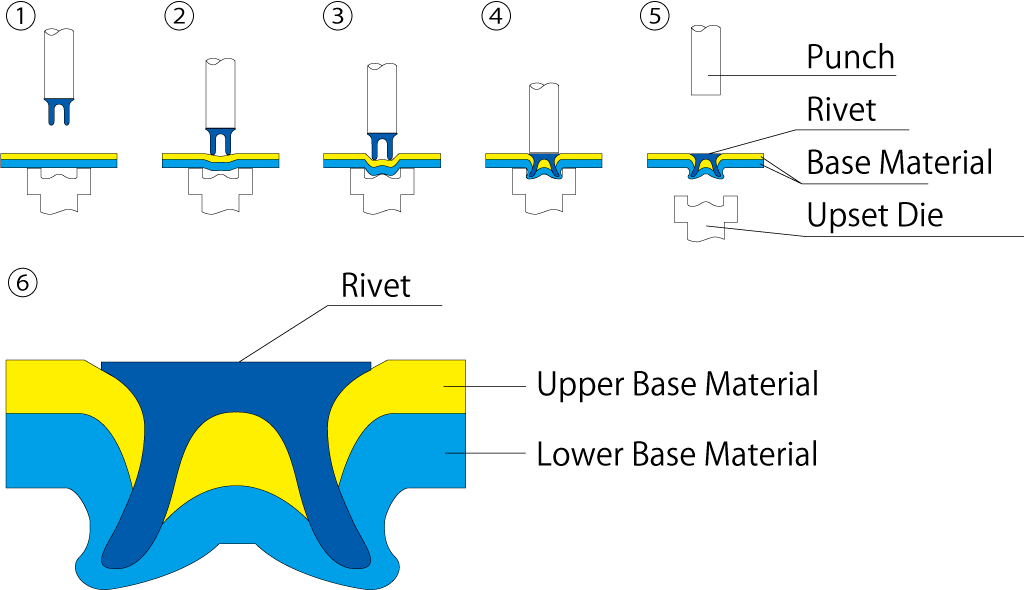 ①Place the base material on the upset die.
②The rivet is crimped onto the base material by the punch.
③The first base material is pierced by rivets.
④The second base material is not pierced but is curled by the upset die.
⑤The joining is completed when the punch and the upset die are separated from the joined base metal.
⑥Joined rivet and two base metal shapes.